Jessamine County's First Author Fair


Jessamine County Public Library
Nicholasville;
May 15, 2016 - More than 20 Kentucky authors of a wide variety of books from all parts of the state came to Nicholasville for the county's first Local Author Fair.

In addition to bringing their books, many of the authors set up interesting informational displays with further insights into their subject matter and their approach to writing. About half of them also gave short presentations or read excerpts from their books while the others met and chatted with visitors and personally signed copies of their books.

It was a very well organized event that most of the authors would love to have become an annual occurrence, but the visitor turnout was a bit disheartening.

"I feel especially bad for the library staff who worked so hard to put the event together," Rebecca said. "They did a great job, but the public just didn't respond. I hope they'll try again and attract more people in the future."

"Personally, I had a wonderful time chatting with other authors I haven't seen for a while and meeting new ones," she added. "I just wish there had been more young readers coming by to talk with us and to look at our books."



---
So sweet! - playing duets in an old-time candy store
Bellevue;
November 30, 2014 - To celebrate the holidays and the fact that their books are now sold in the store, Rebecca and Marie performed a dulcimer concert of Christmas music and Appalachian tunes for customers and staff at Witt's End Candy Emporium.

It's an old-fashioned candy store with "penny candy" in apothecary jars and open barrels as well as classic candy bars, bottled soft drinks, and small toys. It recently added a selection of books by local authors including The Kentucky Girls Books.
---
Kicking off the 2014 Christmas shopping season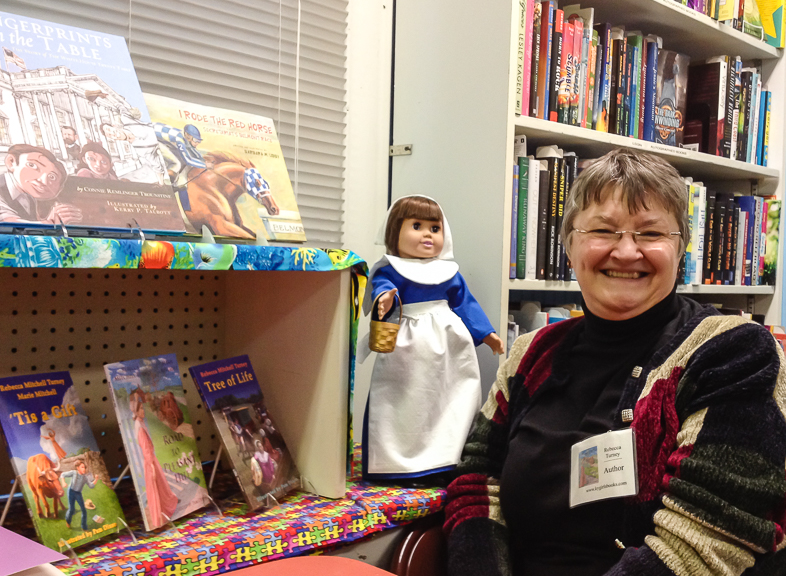 Fort Thomas;
November 29, 2014 - The Blue Marble, Northern Kentucky's best-known children's bookstore, has been a friend to Kentucky Girls Books since 2009 when it hosted a pre-Christmas book signing just one week after Road to Pleasant Hill was published. So, Rebecca and Marie were delighted to return there with a Shaker-attired "Betsy" doll to meet and greet young readers and parents during the Black Friday weekend.
---
Rebecca discussed Shaker advocacy of
women's equality and stewardship of the land
Williamstown Women's Club; March 14, 2013
Sharing insights she attained while researching and writing the Shaker Series, Rebecca immediately connected with a receptive and enthusiastic audience of 32 women. All of them appreciated the Shaker commitment to treating women as equals generations before the rest of America did. And, they were delighted to hear that the Shaker philosophy and way of life were consistent with their club's focus on being better stewards of the land.

A social hour, featured Shaker-inspired desserts made by club members and a book-signing for the entire Shaker Series.
---






Tree of Life spotlighted at the
2012 Kentucky Book Fair

Frankfort;
Nov. 9 & 10, 2012 - Being published in 2012 made Tree of Life eligible for the 2012 Kentucky Book Fair. Rebecca and Marie attended Children's Day at the Book Fair on Friday, and Rebecca was there to sign books Saturday.

The Book Fair lived up to its long-term reputation as Kentucky's premiere book event. It was a wonderful opportunity to reconnect with author friends and meet new readers. On Friday, busloads of students and teachers from all over the Commonwealth attended, and Saturday attracted readers of all ages and interests.

Author participation and public attendance were both down a bit compared to recent years. - Observers blame it on the state and national economy. - There were 190 authors there to sign their books, and attendance was estimated at 3,700 people. Our book sales, however, were actually better than previous years.

It was great to share a booth and table with Dandi Daley Mackall who also writes for young readers. It was fun chatting with her and watching how effectively she interacted with attenders whose ages ranged from 4 to 80. An even bigger treat was having Mark Wayne Adams in the booth next to us. He's a delightful illustator and entertained us and the public with his quick, deft, and humorous sketches.

Look for additional pictures of us on the Kentucky Book Fair page on Facebook
---
Kids Day meant bus loads of students
at the 2011 Kentucky Book Fair

Frankfort;
Nov. 11, 2011 - Occurring on Veterans Day and with several speakers and presentations aimed at kids, the Kentucky Book Fair preview day for school groups brought lots of young readers to the Frankfort Convention Center. They eagerly roamed through the tables, meeting authors, buying books for themselves, and shopping for Christmas presents.

Rebecca and Marie, along with Mason Smith with whom Marie also writes, shared a signing table and were among the scores of authors who greeted the students, answered their questions, and signed books for them.
---
Presenting at a Regional Children's Authors Conference

Thomas More College
Crestview Hills;
Nov. 5, 2011 - Working collaboratively to publish and subsequently promote books was the theme Rebecca and Pam stressed in their workshop at the 2011 Ohio, Kentucky and Indiana Children's Literature Conference.

Their presentation titled Paving the Way to Publication with Partnerships highlighted how much book publishing has changed in recent years, pointing out that successful authors can no longer "just write" a book but must get involved in the entire production and marketing process. To illustrate this point, they described their own creative partnership, their collaboration with their publisher, and their subsequent efforts to build a network of elementary school teachers and librarians to promote their books.

During the conference Rebecca and Pam also took advantage of the opportunity to socialize with and learn from other award-winning children's authors such as Ingrid Law (above right) and Keiko Kaska (lower right).



---
Playing dulcimers for Shaker Village Music Day




Pleasant Hill;
July 16, 2011 - Since music and dancing are central to `Tis a Gift, Shaker Music Day was an ideal time and place to meet new readers, sign books, and perform recently re-discovered Shaker Music.

Under a tent top next to the Shaker Village Craft Store, Rebecca and Marie played the "new/old" hymns and other Shaker tunes on their Appalachian Mountain lap dulcimers, and Pam sang along. Midway through the afternoon, Dr. Carol Medlicott, the scholar who recovered the lost music, stopped by and joined in the singing. Click here to read the news release explaining how this lost Shaker music was discovered.

In addition to regaling visitors with explanations of how the stories and illustrations for the books evolved, they reminded visitors that the Appalachian Mountain lap dulcimer is the official state instrument of Kentucky and even gave informal dulcimer lessons.
---