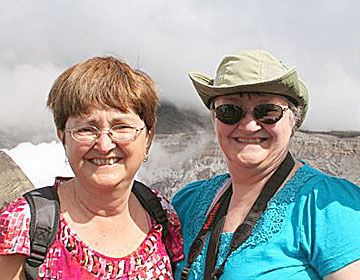 From journalism to historical fiction
As sisters growing up in a small farming community in Iowa in the 1950's and 60's – before globalization via television and the Internet – we had no readily available professional role models and even fewer opportunities. Our grandparents had achieved only eighth grade educations and our parents, who never finished high school, were limited to low-paying jobs.
Our outlook and our futures would have been very bleak had it not been for a school library full of exciting books that opened our minds and our eyes. Through books, we learned of real and fictional women who helped us look beyond our own beginnings and imagine a successful life beyond our seeming limitations.
And succeed we did. We paid our own ways through college and graduated with communication degrees. We both embarked on separate, time-shifted public broadcasting careers (in Kentucky and Iowa) that have garnered a wall-full of awards in the nearly 30 years each of us has been writing, editing and producing news and feature material.
In the process of raising daughters in Kentucky, we discovered the school curriculum was equally weak on state history, and women's history. We discovered the immensely popular American Girls series of books for our girls – and ourselves! The idea of creating a similar framework for Kentucky girls books fell out of those pages.
With the encouraging support of three grants from the Kentucky Foundation for Women, we were on the Road to Pleasant Hill. We put Betsy on the 1834 stagecoach out of Eastern Kentucky, tucked her into the Shaker girls' dorm, and learned about this "perfect" communal society right along with her.
Our goal is to write books featuring young heroines in historically accurate settings that will nourish today's girls' interest in women's history, develop their appreciation of how women's issues have evolved over time and encourage them to be proactive in securing their own places in the world.

Why we're writing these books

We've both wanted to be writers since we were young girls. After award-winning careers as objective journalists, we found ourselves with an active desire to write something that will affect an outcome rather than simply report it.

We wanted to write our own books featuring strong, resourceful girls in historically accurate settings to pique young readers' interest in their rich Kentucky heritage.

We hope our readers will identify with Betsy, Tad and the other characters in this series and see that they face similar problems, even though they are in a different culture, place and time.

We chose an 1830's Shaker Village for our setting because it was a unique and lively place where women's work was valued, where women shared in all major decisions, where girls were rewarded for their individual gifts and where all members of the community worked together for the common good. It was probably as "perfect" as Kentucky society will ever get.

Bringing history to you

Rebecca and Marie would love to share their passion for writing and Kentucky's rich cultural history with your class or as part of your community or school-wide event.

We are equipped with activities and exercises to engage students in important historical events—ways that not only keep them awake, but help them remember the experience long past test time.

With extensive writing, research and teaching experience, we can provide hands-on learning that incorporates social studies, language arts, and communication (to name a few subjects) — satisfying many core content requirements.

Let us help you excite a new generation of readers.