Step into the 1830's and into a Shaker community.
Come explore the unique aspects of this once flourishing communal society that worked to create a "heaven on earth." Meet new friends including:
Betsy who finds that having 100 sisters and brothers makes light of any workload and multiplies the fun because it is shared with friends;
Tad who is shy, sensitive and homesick for his parents and for his lost cabin home;
Grace whose artistic talents are trumped only by her ear for gossip and ability to use it; and
Ruth, a natural teacher, who has to learn from Betsy that keeping secrets can be deadly.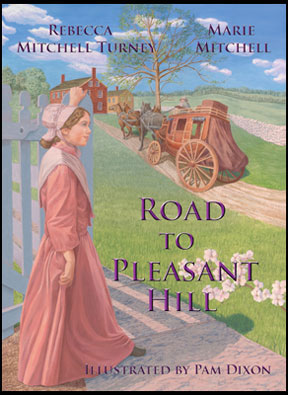 The story begins in 1834. Ten-year-old Betsy Johnson and her younger brother Tad are still reeling from the deaths of their parents when they are uprooted from their Eastern Kentucky farm and sent hundreds of miles away to live with the Shakers at Pleasant Hill.
Even before they arrive, Betsy is frightened by the stories she's heard about Shakers. They're known as a strange group that whirls and twirls wildly about during their religious services, and they supposedly separate family members from one another and take away all their possessions. Is this any place she will want to live and grow up?
Then, right after the stagecoach delivers Betsy and Tad to their new home, they are torn apart. Betsy is sent to live with other girls; Tad goes to the boys' side of the house.
It doesn't take long for the situation to get even worse. Betsy finds herself being blackmailed into keeping a secret by one of her roommates, and it is a secret that could prove to be deadly for the whole village.
Won't you follow Betsy as she makes new friends – and enemies – while adjusting to life in the Shaker village? She'll also discover her own special gift of healing and learn a new meaning of family.
[Click here to read a sample chapter.]
---

Betsy and Tad's adventures continue through two more books.
Tad takes center stage in the second book in the series titled 'Tis a Gift. After two years with the Shakers, Tad still doesn't feel like he fits in at the village. He tries to do what is expected of boys his age, but everything - from milking cows to baling hay - ends in disaster. He would rather be listening to the music of the wind blowing through tall grasses or watching the dance of a bumblebee. But, that bully Fred just won't allow it.
The third book again shifts the spotlight, this time to Grace. Titled Tree of Life, it tells how this spunky, artistic, and clever girl tries to weave a future for herself outside the fences of Shaker Village. But, alas, her silken dreams get tied up in all kinds of knots that create problems for her and for the rest of the village.
All three books are part of the Think Young collection from MotesBooks. They're available in bookstores and libraries or from online sources such as Amazon.com and Barnes & Noble.